TECHNICAL SERVICE AND SUPPORT
Our goal is to not only get your business up and running with successful system solutions implementation, but our expert team of technical service representatives is also here to provide you proficient technical support. Coupled with diagnosis, identification, and solution provisions for potential technical issues, the members of our tech support will ensure your company's smooth and top-notch system performance.
Our tech support team is made up of highly qualified professionals who are certified by our principals for credibility. They work across a myriad of industrial sectors and are driven by a common goal to increase efficiency, productivity and effectiveness of your business. To fit the varying needs of your organisation, Grand-Flo Spritvest offers the following technical support and services.
IT'S MORE THAN JUST EQUIPMENT SERVICING
Maintenance
Depot
Other Services
Maintenance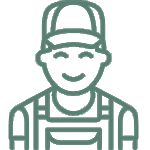 To maximise the return on your investment, it is critical to minimise system downtime and keep your equipment in prime operating condition. We offer regular and routine services to keep your equipment and business running seamlessly, therefore reducing the risk of unanticipated cost.
Just like any hardware, deterioration of equipment can lead to complications with the accuracy and function. We provide hardware maintenance such as repair or replacement of faulty equipment to reduce the risk of unnecessary interruption that would severely impact your organisation's productivity.
Depot
Other Services
TECHNICAL SERVICE
AND SUPPORT ENQUIRY